Finding a garden design that is unique and will suit the shape of your garden is not a simple task to get right. Proper planning can really make you create a paradise and with summer approaching you will be able to be out there all summer long. An awkward shaped or small garden can be changed into a really beautiful garden. Covering the garden with originality can really help in hiding the weak points of it though some small amount of labour is required.
First, before designing a garden, you need to clarify the purpose of the garden if it is for decoration, functional or a mixture. Look at the size and area of the garden you want to design, who will be using the area most and understand the nature of the soil and the climate in your area. Landscaping should follow some rules that are, the layout should include sitting areas, paths, play area if you have children and plants themselves. With children and a small garden, it can be a challenge in itself knowing where to start hanging flower baskets are a really great solution, they spruce up the garden whilst not getting trampled all over. A really fun idea is creating a fairy garden, get a small flower pot to add some flowers a small birdhouse and some rustic stones this could be really fun to make with children and give a magical feel to your garden.
Awkwardly shaped garden? Here are some design tips for you.
Sloping garden
A sloped garden can be made really pretty by putting on some stones steps that are curved all the way down to a small play area for the kids or a little shed used as a garden room. The lawn does not need much maintenance all you have to do is water it frequently. Flower plants can be planted on the steps like a boundary or if the maintenance of the flower becomes hard then green fern can be an alternative.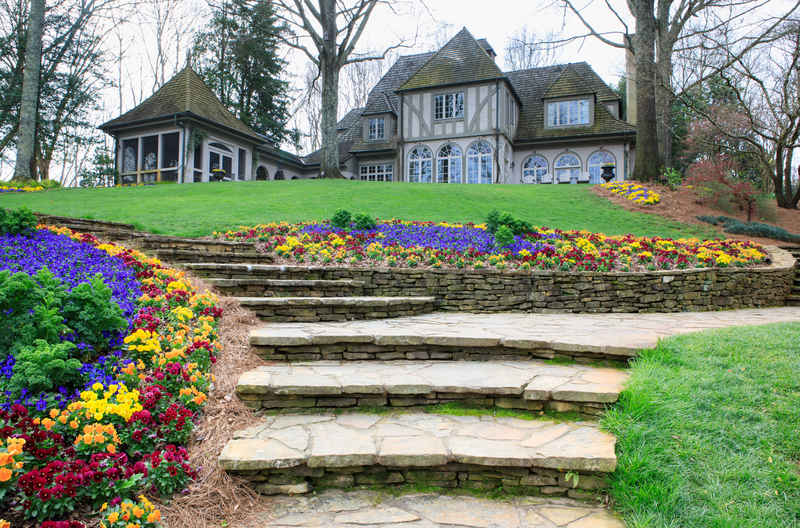 L-shaped garden
An L-shaped garden is another awkward garden. In this, you can make one side of the garden as a play for the kids or you can also make a greenhouse on the other side.
People who have small gardens can also create a garden of their dreams. Since space is a constraint you make it be curvy in order to make it look bigger. Instead of planting in the underground they can do in containers and that will allow much more space.
Use leftover space effectively
There is a beauty in awkwardly shaped gardens, but you can be left with odd bits of empty space. You could maybe add a curing path so you can use all the space around the path and no awkward spaces should be empty. The path again will draw the eye to it so if any spaces are left they will go unnoticed.
Distract with height
Adding trees and archways with flowers can be a really great feature to an awkward shaped garden as it will draw the eye away from the small garden also this will make the garden seem a lot bigger due to the height of the garden. Having a strong focal point in the garden will draw the attention away from the awkward shaped or small garden.
We hope that this has helped you in designing your garden, or if you feel like you still need assistance don't hesitate to get in touch on 01344 886 331 or head over to our website for more information to see how we could help you transform your garden.