When spring finally hits, if your garden has been neglected all summer, it can leave you wondering why you should bother fixing it up. However, there are plenty of simple solutions at hand that can help get your garden back in prime health for the warmer months.
The last twelve months have been particularly isolating for everyone, so creating an inviting garden this summer is a great idea for hosting your family and friends. This blog will share some top tips for getting your garden back in shape in time for summer.
5 Tips To Help Maintain A Garden In Summer
Mow the Lawn
Maybe your lawn hasn't been cut since the end of last summer. Although this is completely fine, getting that first cut in as soon as the temperatures begin to rise above 10 degrees is a great idea. The sooner you get that initial cut done, the sooner your grass will start to grow again, letting through fresh new blades of grass to create a thriving lawn.
You will want to consider cutting your lawn each week to ensure it doesn't become overgrown in the summer months. By creating this weekly habit of lawn care, you will prevent your lawn from becoming overgrown, which can attract pests and generally become harder to maintain.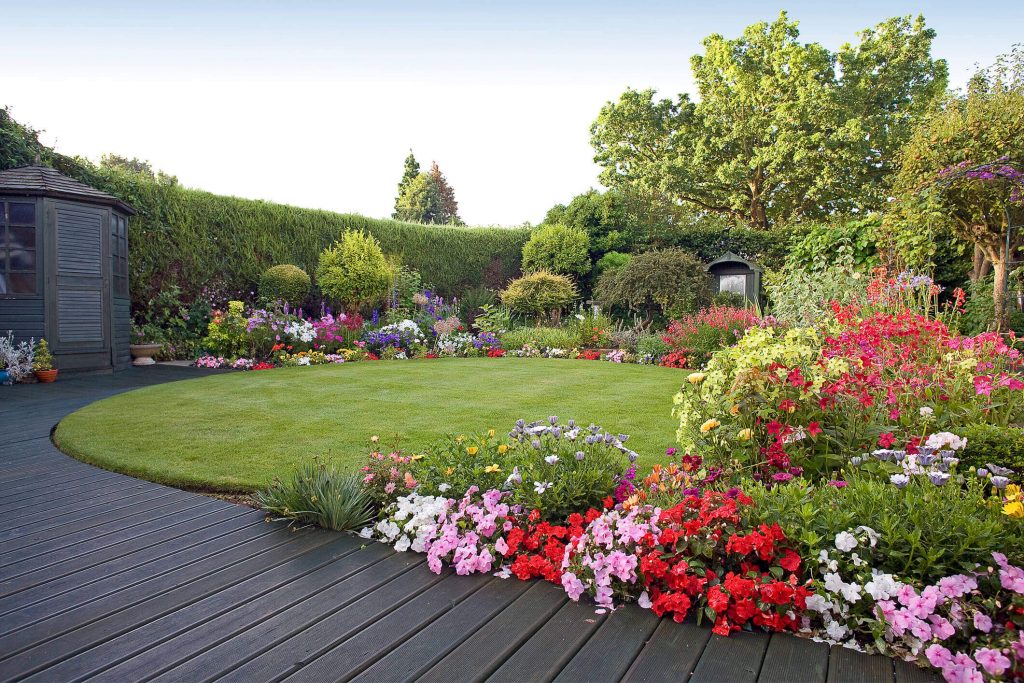 Stain Or Paint Your Shed
The sun's harmful rays have a damaging impact on your garden's timber features. You may not notice it, but your garden fences and sheds will fade over time due to UV exposure and can dry out and become brittle. By staining or painting your timber each year, you add a layer of protection to prevent the wood from becoming damaged by the sun. Think of it as applying sun cream to your timber each year. Not only does staining prevent UV damage, but it also helps timber to become more water-resistant and therefore less prone to wood rot.
Tidy your Flower Beds
Ensuring your flower beds are tidy is one of the simplest things to do for your garden that will see a substantial benefit to its look. You could have the most glorious garden in your neighbourhood, but if your borders are letting you down, then it brings down the garden as a whole. Tidy up the edges by pulling out any weeds and planting fresh summer flowers that will stay in bloom all season. An easy way of neatening your borders is to use bamboo edging to separate your flower beds from pathways.
Utilise a Water Butt
By investing in a water butt for your garden, you can collect and store rainwater to use in your garden. This has a positive effect on the environment and is generally better for your plants as the PH levels of tap water in some areas can be damaging for plants. It also means you can beat any hosepipe bans by having a natural storage of rainwater to use for watering your garden.
Start a Compost Heap
A compost heap has many positives for both your garden and the environment. You should start one straight away to help maintain your garden this summer. A compost heap can be made in any large container. Instead of throwing away garden waste, add it to the compost pile to decompose naturally and enrich your soil. You can even go a step further and add all your vegetable and fruit peelings to the compost for maximum effect. By doing this, you are throwing less in the bin and contributing to the overall health of your garden.
If you would like to find out more about our Gardening Services get in contact with us today on 01344 886331. Alternatively, visit our contact page to send a message.