Summer is well underway, which means that more and more of us are spending time in our gardens. And why not? A garden can be a truly beautiful thing if you put in plenty of time and effort to look after it. However, you might also want to consider ways in which you can set up a great looking garden using some incredible garden features. As all good gardeners know, plenty of colourful flowers and plants will often be enough. But have you ever thought about setting up your own water feature?
A garden water feature is likely to be a popular choice with many landscape gardeners for plenty of different reasons. We don't just mean traditional ponds or pools of water, or even traditional birdbaths! You could set up stunning fountains and sprinkler systems built into topiary, amazing statues or set pieces which spout and recycle water again and again.
Here are a few reasons why you might wish to think about setting up your own garden water feature: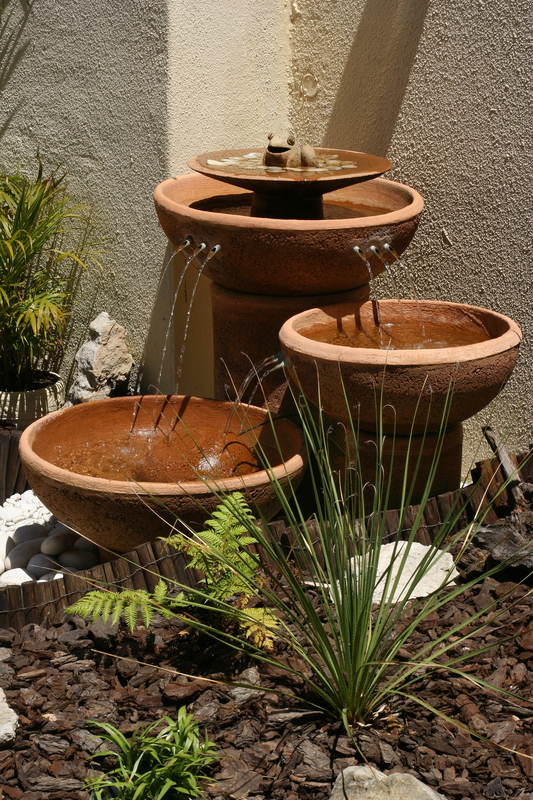 It'll Tie Your Garden Together
Many people employ gardeners and landscape gardeners to try and make a sense of tying a lawn or flowering space together. One of the best ways you can do this is to set up a brilliant water feature as a central focal point. This means that the focus of your garden could be a wonderful, natural water spout, delicately shooting into the air and recycling again.
The fact is, there are many different types and forms of water features out there, which means it's a great way to get really creative. Why not set up a water feature that works together with the natural greenery in your garden?
It's Refreshing on Summer Days
We probably wouldn't recommend you ever drink out of a water feature directly – if at all – but on warm, sunny days, it's always nice to sit out and watch water delicately splash around. A fantastic water feature could be just what you need to cool down.
Think about how relaxing it could be to sit out in the shade, in the summer sunshine, watching a water feature or two in action.
Theme Your Garden
A great reason for setting up a water feature or two is for the fact that you can tie it in with a theme or two. As mentioned, there are some seriously creative water feature designs out there, which means that there should be near endless opportunities for you to create a stunning look and theme for your garden.
The only limit is your imagination – and themed gardens really do look appealing. Not only will they astound your guests, they will potentially add a bit of value to your property, too.
Thinking of setting up a water feature in your garden? Why not get in touch with landscape gardeners to set up a plan of action unique to your wants and needs?
Contact Us Today
Give us a call on 07860 231 389 or please feel free to fill in the enquiry form on our contact page today.