Garden water features are an excellent addition to a garden. They can add that finishing touch to your outdoor space, develop a sense of calm and relaxation in your garden, and they could even be good for the plants and wildlife, depending on the type of water feature you choose.
Things To Consider About A Water Feature
The Water Feed
The most important thing about a water feature is – you guessed it – the water! But where will it come from? The first thing you need to consider before setting up your feature is where it's going to go and how close that is to your water supply. You don't want to have to dig up your whole garden.
How The Water Feature Is Powered
If you've chosen a small water feature, you might be able to get away with solar power to create the pressure that carries the water. If so, make sure your water feature sits somewhere in your garden that normally gets plenty of sun.
If you've got a larger garden water feature, it's probably going to need electricity to run it properly. In this case, you need to ensure you have access to water and electricity in the same place, which can be trickier.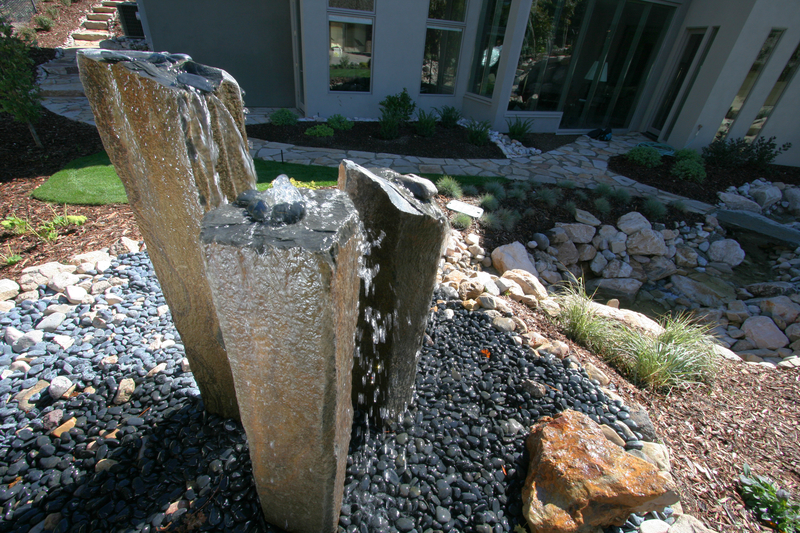 The Space Available In Your Garden
Depending on the size of your garden, you're going to need to select a water feature that's proportionate. There's no point buying a tiny water feature in a large garden – you'll never notice it. Similarly, having a giant water feature in a tiny garden will look very odd.
Try to set the water feature so it takes up a corner of your garden – enough to make it a 'feature' but not enough so that you can't fit in foliage, a seating area, and other garden furniture around it. You want to be able to sit out there in your garden and admire the water feature.
The surroundings of your feature are important to its upkeep too. If you're thinking of placing your water feature under a load of trees or next to any foliage, it's more likely to grow algae and you're probably going to see a ton of bird poop floating in there too. It's great for the local wildlife, but it might not look the best. Try to keep on top of leaves and dirt that falls into the water.
The Style Of Your Garden
What type of garden do you have? Is it modern and metallic? A Japanese paradise or a honeysuckle cottage? Always ensure you select a garden water feature in keeping with your style. If you have a cottage, perhaps a stone basin will work best, or if you have a modern home, perhaps a metallic structure may fit in with your style.
Sound The Water Feature Makes
Always ensure you like the sound of your water feature. It seems odd, but if you don't like how the water sounds when it trickles through, it'll put you off sitting outside. If it's just a trickle, it might get a little annoying, but if it's gushing like a tap, it's not relaxing at all. Aim for somewhere in the middle.
Cleaning The Water Feature
Before you commit to the setup of your water feature, make sure you've considered how to clean it. A water feature will need a thorough clean every few months, so make sure it's easy to drain the water and get it back in there afterwards too.
Water features are beautiful, but most of the time they're quite technical pieces of equipment. You should always ensure a perfect cycle of clean water through the system. If you're looking to have a water feature placed in your garden then get in touch with us at Kite Landscapes and let us help transform your garden.