Are you looking for some inspiration for your garden design? Would you like to see or visualise the design of your garden so that you can have a better idea of how your garden will look like, even before starting any of your garden landscaping work? Most garden planners can help you to do this by using some advanced garden planning tools.
A garden planner can help you to plan and design the garden layout and content of your front or back garden, this is a great way to stay organised and get control of your landscaping project. A professional garden planner will assist you with everything you need, from calculating the size available, designing the shapes, adding walls and boundaries like fences, bushes, a water feature all the way to an outdoor garden building within your back garden. So, let's explore the benefits of using a professional garden planner.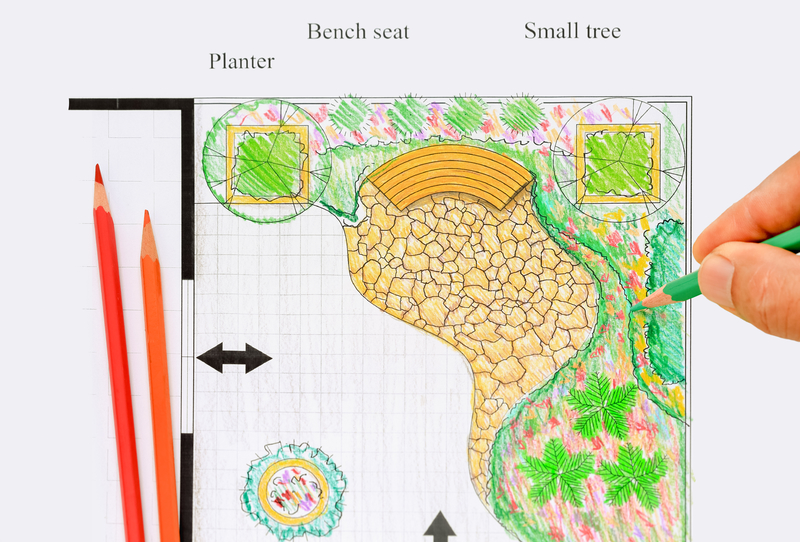 Why use a Garden Planner?
Garden planning should never be underestimated, especially because gardens take various forms. Using a garden planner that can readily generate different garden designs is a key driver in the eventual outcome of a well-planned garden. These are some benefits of using garden planners:
Collaboration
It is easy to get carried away when looking to design your garden by yourself, and especially if you have no prior knowledge as to how. You may have a garden idea in mind and not know how to actualise it. Two heads are always better, so by employing the services of a planner, you can bounce ideas off of each other, giving you the advantage of collaborating with someone that knows what they're doing and can help you unravel your dream garden.
Foresight
As with many things in life, foresight enables you to get a clear picture of what it is you're trying to do and the outcome you want to achieve. Garden planners provide a vivid picture of the final look and aesthetics of a garden by equipping you with the most suitable sketches, planting plans, colour coordinations and shape concepts. If you're looking to accessorise your garden with water features such as ponds, streams, bird-baths or fountains, using a garden designer will give you a heads up on placements that could serve to provide water for your garden and for birds, bees and butterflies while conserving water at the same time.
Direction
Garden planners direct the tone of your garden by providing the right plant lists for your garden. If an area of proposed garden space receives more sunlight than the rest, planning helps you figure out the best location for planting flowers and/or crops so that you don't find yourself in a situation where vegetables that require lots of sunlight die because they were planted in shady areas. A planner also directs you on how to keep your plants and crops in good condition.
Functionality
Good soil, sunlight, space, and water are some of the elements that make up the foundation of any successful garden ground. Meaning the outcome of a garden is dependent on the functionality of these elements. Garden planners will not only point out the need to use fertile soil that is moisture-retentive yet well-drained, but they'd also push for a central watering system that regularly water's your garden and leaves you rest assured when you're away and unable to water it daily.
Thank you for reading this blog post. If you have any gardening related queries, visit our contact page or call us on 07860 231 389.