The cold weather slowly begins to warm up, thoughts turn to sunshine and lazy days in the garden. Spring is on its way, so it's time to get in the garden and vanquish the winter and get it ready for the year ahead. If you're chomping at the bit to get outside, we've got 11 top tips for getting your outdoor spaces ready for spring. A garden designer would be a great place to start to get your garden in tip-top condition again.
Tips for gardening in spring
Repaint
The winter weather can be harsh on the garden. Being outside in all weather is going to impact on painted surfaces. The shed, the fences, external doors and brickwork will undoubtedly show the realities of the winter weather. To bring them back to their best, sand them down or grab a steel-wool brush and prepare them for a makeover. Repainting is an easy and relatively inexpensive way to rejuvenate your garden, especially if you add a splash of vibrant colour.
Borderline Beauty
You'll probably find the borders of your garden and paving won't look as tidy as they did the last time you enjoyed the garden. Weeds and other vegetation will have grown over the winter months making your borders look very untidy. Grab your hoe and blitz your edgings to remove weeds and they'll be back to their best in no time.
Back To Bed
One of the easiest ways to make your garden look great again is to tidy up the flowerbeds that you already have. Getting rid of weeds, debris, litter and fallen leaves are quick and simple to do but creates a fantastic impression without adding anything extra.
Greenhouse Glasses
If you've got a greenhouse, then chances are it is going to need a little love too. The harsh winter weather will have taken its toll on the glass, so washing the outside with disinfectant or detergent will remove any algae, grime and moss that has accumulated. Inside, it will probably need a little love to remove weeds that have overgrown and to get it ready for your new seedlings.
Pest-A-Side
Even if you haven't been enjoying your garden over the winter, there will be bugs, insects and pests that have been. Getting rid of them early will mean a lot less work for you in the summer. Check for slugs, snails and aphids that have set up home and use the necessary chemicals to remove them. Look for larvae in and around any compost pots you have as they feed on plant roots.
Compost Yourself
If you don't have a compost area in your garden, and the last section inspired you to start one, then it's a great way to recycle your organic waste. Once it's broken down, you'll have a supply of high-quality compost soil to use as you plant new flowers, shrubs and trees to brighten your garden.
Take A Fence (or wall)
Another victim of the colder temperatures will be the garden fence (or wall). Check if any of the panels need replacing or refitting, or if it's a wall, check for loose coping stones or brickwork. It's also a great idea to give your fence or wall a lick of paint (or stain) to preserve it for the year.
I Like Big (water) Butts
In the UK, we have more than our fair share of rainfall. Rather than simply flooding your garden, installing a water-butt allows you to have a steady supply of free water. Rather than connecting a hose to your mains water supply, harvesting in a specific container is not only environmentally friendly but gives you a supply in the summer when (hopefully) water is at a premium.
Lawn and Order
If you have a lawn, either in the front or back garden, then the spring is a crucial time for some groundwork. The work you do now will pay dividends later when it comes to the lawn. Once the grass is dry and thawed, rake it to remove thatch and dead blades of grass. Once done, any new seeds or fertiliser can penetrate the surface properly. Bear in mind, the type of grass seed you use can depend on how you use your lawn, so think about that when buying them.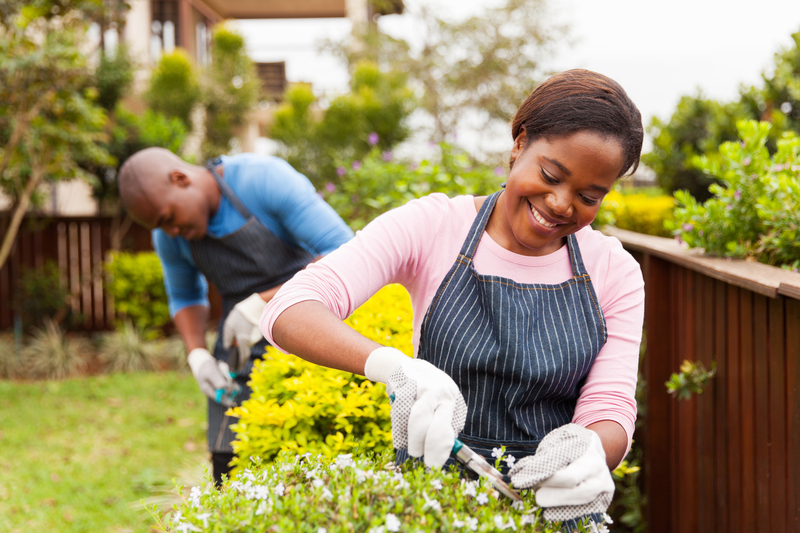 Sowing the Seeds
Wouldn't it be great if you could just have a wonderfully colourful garden instantly? Sadly, it's not that easy. Plants need time to grow, but some flowers like geraniums and begonias need a longer germination period than others. If they are your flower of choice, it's time to start potting those seeds now so you can enjoy them when the spring and summer come around.
The Sharpest Tool in the Shed
One aspect of your garden that is easy to overlook is probably locked away in your shed or garage (which is why it gets overlooked I guess). The tools you need to help you bring your garden back to life will need some TLC. If you don't bother cleaning them after use, then it's time to use some strong detergent, hot water, elbow grease and a scourer to bring them back to their best. For those that might need sharpening, applying some oil or WD40 afterwards will keep them in tiptop condition.
We hope that our blog has been informative and helpful if you have any questions please don't hesitate to give us a call on 01344 886 331 or alternatively drop us an email and one of our friendly members of staff will get back to you as soon as possible.